People with dry hair face a lot of struggle in their hair textures. Dry hair is more prone to breakage and damage. While stepping out of the house, we expose our hair to the adversarial impact of external factors like pollution, sun, dirt, etc. Many people style their hair while going out, which requires heating the hair. Women with dry hair always try to keep their hair in a bun to avoid more damage. Instead of restricting yourself from trying different hairstyles, one thing that can do wonder is to use the best conditioner for dry hair. One should always opt for a moisturizing conditioner that has been designed for their hair condition.
Top 10 Conditioner For Dry Hair In 2022
After consulting several professional hairdressers and dermatologists, we have concluded the top 10 best conditioners for dry hair in 2022. So let's see which hair conditioner will help in keeping your hair healthy and soft.
1. ORIBE Conditioner Gold Lust Repair
ORIBE conditioner helps in offering shiny, smooth, and ageless hair. It is blended with several extracts and essential oils, which include argan, maracuja, and cypress. These ingredients help in creating a bio-restorative complex that hydrates the hair revitalizes it and makes the hair soft. It will restore your youthful hair and moisturize it without making it heavy.
All the hair cuticles will become ultrasoft. By using this conditioner, you will be able to protect and reverse future damages and reduce the appearance of split ends. Argan oil present in it repairs damage, adds shine and controls frizzy hair.
There are other bio-restorative complexes, which are plant collagen, biotin, caffeine, and niacinamide, which helps in repairing hair damage by strengthening the hair cuticles and moisturizing the hair. The conditioner has been dermatologically tested and has been formulated without sodium chloride or sulfate and paraben.
Key Features
Sulfate-free
Paraben-free
It contains cypress, maracuja, and argan oil.
Ultra-hydrating conditioner with bio-restorative complex.
Reduces the appearance of split ends and restores damaged hair.
Dermatologically tested
Protects hair against UV
Gluten-free, cruelty-free, and vegan.
Pros
Hydrates hair
Restore hair condition
Leaving hair shiny and soft
Effective ingredients
Reverses hair damage
Does not contain paraben
Cons
It does not work correctly for fine hair.
2. KERASTASE Anti-Breakage Hair Strengthening Cream Conditioner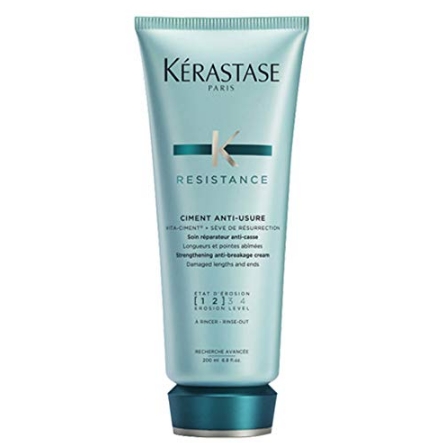 KERASTASE anti-hair breakage conditioner protects the hair and strengthens it from within. It will provide lightweight conditioning and will instantly detangle your hair. The conditioner has refining and reinforcing treatment formulation designed for damaged hair. After applying the conditioner, it will leave your hair feeling supple, smooth, and soft.  The conditioner contains effective ingredients that repair brittle hair.
Key Features
Protects the hair and strengthens it
Anti breakage
Lightweight conditioning
Instant detangling
Affordable
Protects damaged hair ends and length
Makes the hair smooth, supple and soft
Ideal for long hair as well
Pros
Effective for damaged hair
Detangles hair
Lightweight
Effective ingredients
Salon like result
Hairdresser's choice
Cons
Some people might find it expensive.
3. Neutrogena Deep Conditioner For Triple Moisturizing Damaged, Over Processed And Dry Hair
Neutrogena deep hydrating conditioner helps in intensely repairing damaged hair. After applying the conditioner, your hair will become more manageable and smooth. One can encounter visible changes from the first wash. It contains natural extracts that help in hydrating your hair by penetrating every hair strand. It treats the hair inside out. Olive extraction moisturizes the hair strand, and sweet almond extractions envelopes the hair in moisture.
After applying the conditioner, the result will surprise you. It has been clinically proven, and salon approved and hence recommended for treating over-processed, dry, and damaged hair. You can also apply it on color-treated hair, and it can always tame frizziness and flyaways. You can use it daily as well as it contains natural extracts.
Key Features
Intense moisturizing ingredients
Increases manageability and smoothness of the hair
Hydrates the hair from inside out
It contains sweet almond, meadowfoam, and olive extracts.
Clinically proven and salon approved conditioner
Specially designed for damaged, brittle, and dry hair.
Works great with color-treated hair as well
Tames frizziness
1-minute conditioner
Pros
Treats dry, damaged, brittle, and over-processed hair.
Works great on thick hair as well.
Deep conditioning
Triple moisturizing
Salon approved
Cons
4. Joico Conditioner For Moisture Recovery
Joico conditioner has been designed for revitalizing and conditioning dry hair. After the first wash, you can experience smooth and silky hair. It is sulfate-free, and one can also use it on different types of hair texture. The fantastic smell comes from all the active ingredients in it.
The conditioner helps in moisturizing, detangling, reconstructing, and smoothening hair. The main ingredient of this conditioner is jojoba. The conditioner has marine-based ingredients, including jojoba oil and quadramine complex. It provides ultimate nourishment to the dry hair.
Joico contains essential minerals, brown algae, marine botanicals, and sea kelp. After applying the conditioner, your hair will get proper hydration, and it will strengthen the hair strands and prevent breakage up to 55%. It will make the hair smooth, which will respond better to styling products.
Key Features
Sulfate-free
It contains marine botanicals, brown algae, sea kelp along with essential minerals.
Protect your hair against dehydration and restore the hair's hydrolipidic barrier.
Reduces hair breakage up to 55%.
Enhances hair styling process
It helps in moisturizing, detangling, reconstructing, and smoothening the hair.
It contains quadramine complex and jojoba oil.
Pros
Moisturizes dry and damaged hair
Effective ingredients
Pleasant smell
Sulfate-free
Makes the hair soft and silky
Cons
Makes the hair feel greasy and heavy
5. BIOLAGE Conditioner Ultra Hydrasource For Dry Hair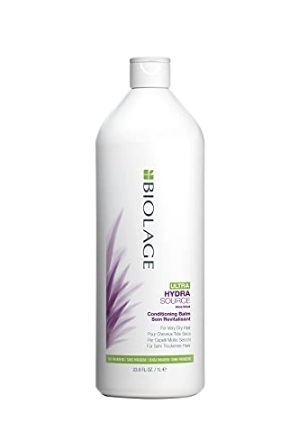 BIOLAGE ultra hydra source conditioner has been designed for extremely dry and damaged hair. It will bring back the moisture back into your beautiful hair. BIOLAGE has an effective formula that includes natural ingredients. It contains aloe vera plant properties that help in retaining moisture in the hair.
The conditioner has been optimized for retaining moisturize and absorbs it properly. For people suffering from damage and dry hair should opt for this conditioner without any second thoughts. It will intensely nourish, strengthen, and optimize the moisture balance to strengthen the hair to protect against hair damage.
Aloe leaf, apricot kernel, and cupuacu butter together form a powerful formula that envelops the damaged, coarse and dry hair.
Key Features
Intensely moisturizes dry, coarse, and thick hair.
It contains the benefits of aloe plants.
Optimizes the hydration level of the hair.
Promotes moisture retention and absorption.
Maintains the moisture balance in the hair to prevent frizz and hair breakage.
Paraben-free
Designed for color-treated hair
It contains the dominant brand of apricot kernel, cupuacu butter, and aloe leaf.
Pros
Beautiful fragrance
Moisturizes hair
Hair becomes silky and smooth
Value for money
It can be used on color-treated hair
Cons
Some might not like the overwhelming scent.
6. PUREOLOGY Medium To Thick Moisturizing And Hydrating Conditioner
PUREOLOGY moisturizing conditioner is loaded with hydrating elements that can treat damaged, dry, and colored hair. The conditioner does not contain any sulfate and offers deep moisturizing to the hair. It will revitalize the hair and optimize the vibrancy and color retention of the hair.
This conditioner will defend the hair against several free radical activities that can cause damage. It has a beautiful blend of aromatherapy, which includes bergamot, patchouli, and ylang-ylang. It is best suited for thick and healthy hair.  This professional conditioner has been specifically designed for color-treated hair and hence loved by hairstylists and consumers.
Key Features
PUREOLOGY conditioner has hydrating ingredients.
It has been designed to enhance the color retention of hair.
It does not contain sulfate.
It offers aromatherapy with the perfect blend of patchouli, bergamot, and ylang-ylang.
Protects the hair against activities of free radicals.
Revitalises damaged and dry hair.
Pros
Suitable for color-treated hair
It offers beautiful and healthy hair.
Moisturizes the hair
Makes the hair soft
Has a beautiful scent
Cons
It might cause hair loss.
7. ALTERNA CAVIAR Moisturizing Conditioner
CAVIAR has an amazing formula that helps the hair to look stronger and beautiful. The conditioner will hydrate the hair and improve softness, texture, shine, and manageability. It has been specifically designed for brittle and dry hair. One can see that their hair has completely transformed just after one wash.
The potential blend of the hair conditioner offers uncompromising and quality performance. The conditioner is free of paraben and has caviar infusion in it, which helps in hydrating dull and dry hair. The conditioner is perfect for curly, wavy, straight, tightly coiled, and coiled hair. This conditioner helps in locking the moisture in your hair.
Key Features
Conditioner has an abundant lipid which hydrates and nourishes the hair.
It is perfect for wavy, straight, curly, tightly coiled and coiled hair.
Designed for brittle and dry hair.
Hydrates the hair from within and improves softness, texture, shine, and manageability.
Does not contain paraben
Caviar infusion in it helps to hydrate dull and dry hair.
Pros
Hydrating and nourishing conditioner
Conditioner with rich lipids
Seals the moisture
Treats brittle and dry hair
Paraben-free
Impressive quality
Cons
8. Botanic Hearth Argan Oil Keratin Conditioner Sulfate-Free For Damaged Or Dry Hair
Botanic Hearth fortifies the hair and nourishes from within. The conditioner is infused with argan oil, which helps in sealing the moisture and tame the frizziness. One can use it daily and is color-safe. The conditioner is sulfate-free and paraben-free, which makes it an excellent choice for damaged hair.
The product has been designed for all hair types and is gender fluid. Keratin protein, glycerine, and argan oil together make this an effective conditioner.
Key Features
Paraben-free
Sulfate-free
Designed for all hair type
Both men and women can use it.
One can use a conditioner on the hair, which is color-treated.
One can use it daily.
It helps in locking the moisture in your hair and smooth the frizziness.
The conditioner is made in the USA.
It has a powerful blend of argan oil, soy protein, rice protein, and lanolin.
Pros
Repairs damaged hair
Moisturizes the hair
Fortifies the hair with keratin
Argan oil makes the hair healthy
Daily use
Cons
9. L'Oreal Paris Total Repair 5 Conditioner
L'Oreal total repair five conditioners have already gained humongous popularity in the market for its amazing benefits. It has been formulated for damaged hair. Apart from treating your dry and damaged hair, it will fight five hair problems. Protein and ceramide are present in the ingredients to make it a robust hair-softening formula.
After applying conditioner, your hair will feel healthy and active. Split ends, rough, weak, dehydrated, and dull hair can be treated with this conditioner. This is by far the best hair strengthening conditioner, which will rebuild hair fiber, nourish your hair, and add strength to your hair.
The conditioner seals in the moisture and increases vitality and silkiness. Keep this conditioner on your hair for 1 to 3 minutes and rinse it for an intensive hair repair.
Key Features
Fights 5 signs of hair damage
Repairs hairs that are damaged, dehydrated, rough, weak, dull, and have split ends.
It contains the dual-action formula of protein and ceramide.
Makes hair feel healthy and strong
The conditioner is designed for damaged hair.
Rebuilds hair fiber
Increase hair vitality and strength
Pros
Moisturizes the hair
Pleasant smell
Affordable
Repair 5 hair damage signs
Cons
Failed to repair all the hair problems.
10. TIGI Anti+Dotes Conditioner For Level 2 Damage
TIGI bed head conditioner is an innovative product that has been created by some reputed hairdressers. It helps in taming frizziness. After applying the rising conditioner to the thirsty hair, your hair will feel soft and shiny. People with colored hair can also use it. It will drench your dry hair, which is moisture-deprived with a boost of hydration.
The conditioner has the excellent quality, and it will repair the hair quickly. Once you start using the conditioner you will be amazed to see the stunning hair locks. High-grade material is used in the ingredients.
Key Features
Level 2 Damage conditioner
Satisfaction ensured
Quality ingredients.
Instant hydration
Makes hair smooth and shiny
Colour safe
Pros
Pleasant smell
Moisturizing
Repairs damaged hair
Cons
The conditioner has a watery consistency.
Conditioner For Dry Hair – Buying Guide
Things To Consider Before Buying A Conditioner For Dry Hair
There are several benefits of using the appropriate conditioner on your hair. If you have dry and damaged hair, then you need the conditioner that has been designed explicitly for frizzy and over-processed hair. So here are some pointers that you will need to keep in mind to purchase the best conditioner for dry hair.
Hair Issue
Different people have different hair issues like dry hair, scalp boils, patchy scalp, and many more. These skin problems need to be taken care of and hence pick the conditioners accordingly.
People having sensitive hair issues should not opt for conditioners that have high chemicals in them. Also, check the color and the texture of the hair while picking a conditioner.
Hair Type
It is vital to consider the hair type while picking a conditioner. Read the description of the conditioner and see for which hair it has been designed. If you have oily hair, then you would not need a deeply moisturizing conditioner. People with curly hair will need different types of conditioners as their hair is more prone to frizziness and is unmanageable most of the time.
Sulfate-Free
Avoid products with sulfate in it, along with harsh chemicals. Go for a conditioner that does not contain sulfate and has negligible chemicals. If you have dry hair, then you need conditioners to moisturize your hair, and chemicals would do the exact opposite.
If the conditioner has sulfate in it along with harsh chemicals, then it will fail to perform proper conditioning.
Colour Treated Hair
If your hair is color-treated, then you need a conditioner that is safe for color-treated hair. Otherwise, the color will fade off quickly.
Type
Consider the kind of conditioner. The hair condition will determine the conditioner that you would. For extremely dry hair, you would need deep conditioning.
Brand
It is imperative to pick a conditioner that is from a reliable and well-known brand that can assure performance. Check the customer reviews and see their opinion about the product.
Not all good brands will have products effective for your hair. One can also go for the conditioners that are medicated or have a lot of natural ingredients.
Ingredients
Nowadays, you can find several brands that are relying on entirely natural ingredients. Do not go for the harsh elements as it won't be useful in the long run.
Types Of Conditioner
A considerable revolution can be seen in the market of conditioners. Dermatologists and several specialists are working to produce conditioners that will be suitable for different hair textures and types. In the market, there are different types of conditioners having different application types and use. Here is a comparative study between different kinds of conditioners and their specifications.
Cream Rinse Conditioner
Cream rinse conditioner has a leathery and creamy texture. It has been designed for detangling hair. The conditioner will act on the hair surface as it does not contain any strong base.
One cannot expect this conditioner to perform deep conditioning. It has a thin consistency, and it will help to protect the hair against the sun.
Instant Conditioners
Instant conditioners can be applied to the hair after shampoo. They have a watery consistency and are premixed. It is designed for people who use shampoo to their hair frequently. This conditioner has a light mix and is best for people who have beautiful thin hair.
The conditioner won't be harsh on their hair. Apart from this instant conditioner, they will also require some deep conditioning every week. If you have oily hair or thin hair, then it will be suitable for you. It will only act on the hair surface and won't provide deep conditioning.
Moisturizing Conditioners
If you see that your hair is dry and dehydrated then the first thing will be to nourish and hydrate the curls. This can be performed by using moisturizing conditioners.
They will allow your hair to retain the moisture stay detangled. People with frizzy hair can opt for this one as it also helps in improving the hair elasticity.
Deep Conditioners
If your hair craves deep conditioning, then you need deep conditioners. These conditioners are rich in protein and have a lot of moisturizing ingredients. It will help in treating your hair properly. People with dry, damaged, and frizzy hair can go for this one.
After applying the deep conditioner, your hair will start to feel heavy, and you need to allow it to soak it in your hair completely before rinsing it off thoroughly. It will give your hair the protein boost, and since they are heavy, so apply it for only one to two times in 10 days.
Leave-In Conditioners
Leave-in conditioner will stay on your hair for several days, and it does not require immediate rinsing. It is applied to the hair before styling as it locks the moisture. Leave-in conditioners are hair-friendly as it detangles the hair and makes it look presentable.
Protein Conditioners
The conditioners with high protein content are known as protein conditioner as it helps in repairing the damaged hair cuticles temporarily. They will not perform deep conditioning as they act only on the hair surface. It will boost the hair moisture, and after washing your hair, the protein will get rinsed off.
FAQs about Conditioner For Dry Hair
How should I apply conditioner to my hair?
The first thing will be to pick the right conditioner for your hair type and hair concern. If you go for the traditional conditioner, then you will have to apply it after rinsing your hair with shampoo.
Apply the conditioner on every hair strand and allow the conditioner to stay in your hair for 1-2 minutes. After that, you need to wash the hair conditioner entirely from your hair.
How much conditioner should I use?
The amount of conditioner that one should use will entirely depend on their hair length and hair type. If you have short hair, then you need less hair conditioner in terms of long hair.
If your hair is dry and extremely damaged, then you need an extra hair conditioner. People with greasy hair should avoid using excessive conditioners. Moreover, it is always advised to apply conditioner on the hair ends where the most damage occurs.
How can I fix damaged hair?
To revive the lost life from your hair, you can use natural remedies. Mix apple cider vinegar with egg whites and olive oil and apply it on your hair. Keep it on your hair for a few hours and wash it off.
One can also go for the deep conditioners or hair masks that are commercially available. Apart from that, make sure you are protecting your hair against the harsh chemicals.
What helps best when you have parched hair?
If you have parched hair, then the first thing will be to stop using your shampoo, conditioner, or any harmful hair styling products. Perform hot coconut oil massage on your hair and opt for the right hair care products suitable for your damaged hair.
For damaged hair, people also try home remedies as well. Apart from that, you can start taking food that is loaded with amino acids to provide your body with more nourishment.
When should one use a conditioner?
The frequency of using the conditioner will depend on your hair type. If you go for the general conditioners, then you need to apply it immediately after applying shampoo to your hair. Use it a few times every week.
Some may prefer to use it daily as well. If your hair is already elegant and is susceptible to greasiness, then you must not apply conditioner very often.
Will conditioner cause hair loss?
No, it won't. People who clean their hair regularly and apply conditioner will always have healthy hair as it promotes hair growth. If you are experiencing heavy hair fall after applying the conditioner, then you are using the wrong conditioner, and it is not suitable for your hair. Other internal health conditions may also be responsible for the hair fall as well.
Conclusion
All the conditioners mentioned above have been listed after doing comparative studies. Most of them have been dermatologically tested and approved by hairdressers for damage and dry hair. It is also important to pair the right shampoo and conditioner to get a great result.  Always check your hair texture and hair thickness before opting for hair conditioner. Take proper hair care and have a healthy diet in order to have lustrous hair. As we know, what goes inside shows outside.